DENVER — Officers of the Denver Police Department engaged in a deadly encounter with a man brandishing a replica weapon in the community. Lethal force was used when the suspect continued pointing the weapon and failed to comply with officers orders.
More than a dozen calls poured into Denver's 911 communications center after 5 p.m., Sept. 9 to report a man walking down a street near West High School pointing a gun at people, Lt. Matt Clark said.
The man, later identified as Antonio Blackbear, 41, was pointing the weapon at two people in a parked car when police arrived at 5:21 p.m., Clark said. Blackbear turned toward police and walked toward them with the weapon raised and disregarded commands to stop and drop the weapon, police said. Two officers opened fire, and Blackbear was later pronounced dead from his wounds, Denver Post reported.
The weapon was later identified as an Airsoft gun without a safety tip, according to a photo of the weapon displayed by police. The officers on scene believed the gun was real, Clark said.
The two officers have not previously been involved in a shooting and are on modified leave while the OIS is investigated.
Author information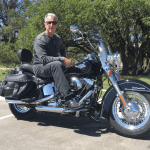 Jim McNeff is the managing editor of Law Officer and founder of Badge 145, a ministry geared toward helping police officers and their families.

Jim worked in military and civilian law enforcement for thirty-one years. While in the USAF he flew as a crewmember aboard the National Emergency Airborne Command Post—a presidential support detail. Following his military service, he served for twenty-eight years with the Fountain Valley Police Department in Orange County, California where he retired as a lieutenant. He holds a Bachelor of Science degree in criminal justice from Southwest University and graduated from the prestigious Sherman Block Supervisory Leadership Institute as well as the IACP course, Leadership in Police Organizations.
In addition to being a Medal of Valor recipient, Jim has authored three books: The Spirit behind Badge 145, Justice Revealed, and Jurisdiction.