LOS ANGELES — At least one person was taken to a hospital Thursday night after multiple vehicles reportedly drove through a mob of Breonna Taylor demonstrators in Los Angeles, according to reports.
Videos posted on social media showed a large group of people walking down Sunset Boulevard in Hollywood around 9 p.m., to protest the Kentucky grand jury's recent decision on the March shooting death of Taylor
Chants of "F— these racist a– police!" turned to screams when a blue pickup truck — driving against the flow of demonstrators — struck at least one sign-holding person, who fell backward onto the street, KCAL reported.
WARNING: GRAPHIC VIDEO
A rioter was hit by a truck earlier tonight in Los Angeles. pic.twitter.com/WTLsKH7uYF

— Austin Frisch (@Austin_Zone) September 25, 2020
Fire crews responded to the scene and transported the protester to a local hospital, according to FOX 11 Los Angeles.
A separate video appeared to show people converging on the vehicle before the incident.
MULTIPLE ANGLES: Protester hit by truck in Los Angeles, CA. pic.twitter.com/3EEK4zYim2

— Brennan Prill ︎ (@WxBrenn) September 25, 2020
Author information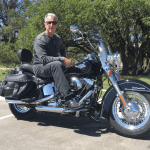 Jim McNeff is the managing editor of Law Officer and founder of Badge 145, a ministry geared toward helping police officers and their families.

Jim worked in military and civilian law enforcement for thirty-one years. While in the USAF he flew as a crewmember aboard the National Emergency Airborne Command Post—a presidential support detail. Following his military service, he served for twenty-eight years with the Fountain Valley Police Department in Orange County, California where he retired as a lieutenant. He holds a Bachelor of Science degree in criminal justice from Southwest University and graduated from the prestigious Sherman Block Supervisory Leadership Institute as well as the IACP course, Leadership in Police Organizations.
In addition to being a Medal of Valor recipient, Jim has authored three books: The Spirit behind Badge 145, Justice Revealed, and Jurisdiction.